Mor's Famous Swedish Meatballs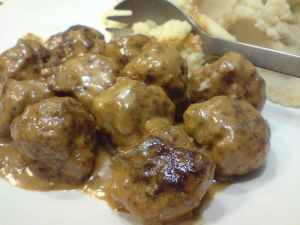 Ingredients
Total time: 1 hour, 30 minutes
Yield: Approx 75 meatballs
Sauce/Gravy
1 packet Onion Soup mix
¾ cup Italian seasoned bread crumbs
½ cup milk or soy milk
1 tbs Worchestershire sauce
2 tsp salt
1 tsp pepper
1 26 oz can of mushroom soup
⅔ – ¾ cup of milk (to desired consistency)
1-2 tsp browning liquid
Meatballs
2 lbs lean ground beef
1 lb ground pork or turkey
1 egg
Directions
Set broiler on high
Mix all ingredients for meatballs thoroughly.
Shape into small meatballs (about the diameter of a quarter) and place on cookie sheet.
Broil meatballs for 4-5 minutes or until browned.
Place in a large oven-safe casserole dish.
For sauce, whisk all ingredients together for a smooth consistency.
Pour over meatballs.
Heat in a 350 degree oven for 30 minutes.
Abundance Hill Favorite Recipes